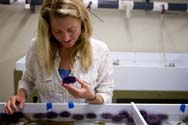 Anne K. Salomon
Associate Professor and Hakai Professor
Lab Web Page: Coastal Marine Ecology and Conservation Lab
B.Sc. (Hons) (Queen's University)
M.Sc. (University of British Columbia)
Ph.D. (University of Washington)
Anne Salomon seeks to advance our understanding of how human disturbances alter the productivity, biodiversity and resilience of coastal marine ecosystems to inform ecosystem approaches to marine conservation. Broadly, Anne is interested in the cascading effects of predator depletion on marine food webs, marine reserve design and evaluation, climate change impacts on coastal ocean ecosystems, alternative state dynamics, and the resilience of social-ecological systems. Ultimately, Anne strives to engage coastal communities and government agencies in collaborative research and encourage constructive dialogue among stakeholders to navigate the tradeoffs between coastal conservation and resource use.
Current collaborative research projects include:
Quantifying the ecosystem-level effects of sea otters on kelp forest trophic dynamics, northern abalone recovery and the adaptive capacity of coastal communities along BC's Central Coast
Investigating the ecological and socio-economic drivers of Pacific herring dynamics and their role as a pulse nutrient subsidy to coastal ecosystems
Assessing the ecological repercussions of marine reserves on valuable fisheries (rockfish, red sea urchin), species-at-risk (abalone) and kelp forest food webs in Gwaii Haanas, BC and the Channel Islands, California
Identifying the factors that mediate cross-system trophic cascades triggered by terrestrial invasive predators on intertidal ecosystems in Gwaii Haanas, BC
Illuminating the effects of prehistoric clam gardens, an ancient form of mariculture, on secondary production
Understanding the dynamics of coastal ecosystems at the temporal and spatial scales germane to conservation and management necessitates a combination of approaches. Consequently, Dr. Salomon and her students complement their field-based research with stable isotope analyses, ecosystem modeling, historical ecology, archaeology, traditional knowledge, satellite remote sensing, and the quantitative techniques required to draw these multiple lines of evidence together.
Selected publications:
Books:
Salomon, A.K., N. Tanape Sr., H.P. Huntington. Imam Cimiucia; Our Changing Sea. 2011. Alaska Sea Grant and University of Alaska Press.
Salomon, A.K. 2008. Ecosystems. In: Encyclopedia of Ecology. General Ecology. Vol.2. Editors: Sven E. Jørgensen and Brian D. Fath. pp.1155-1165.
Dr. Anne Salomon teaches a Special Topics graduate seminar on Resilience (REM 660), and a graduate class in Applied Population and Community Ecology (REM 611).