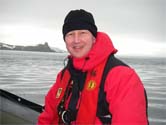 Frank Gobas
Professor
Environmental Toxicology
B.Sc. (Chemistry, Free University of Amsterdam)
M.Sc. (Environ. Chem. & Toxicology, University of Amsterdam)
Ph.D. (Chemical Eng., University of Toronto)
Dr. Gobas is an environmental chemist and toxicologist, who is interested in the behavior, effects and associated ecological and human health risks of chemical pollutants in the environment. Dr. Gobas teaches in the Resource & Environmental Management Program and in the Master of Environmental Toxicology Program at SFU.
Information on his current research program can be found at http://www.rem.sfu.ca/toxicology and his publications include:
Assessing sediment quality using thin-film solid phase extraction. 2009. Environ. Chem. Toxicol. 28:247-253.
Revisiting Bioaccumulation Criteria for POPs and PBT Assessments. 2009. Integrated Environmental Assessment and Management. 5(4):624-637.
Polychlorinated Biphenyls and Polybrominated diphenyl ethers in Galapagos sea lions (Zalophus wollebaeki). 2009. Environ. Chem. Toxicol. 28(11):2271–2282.
Magnification and Toxicity of PCBs, PCDDs and PCDFs in Upriver Migrating Pacific Salmon. 2004. Environ. Sci. Technol. 38(23): 6217-6224.
Distribution of Phthalate Esters in a Marine Aquatic Food-Web. 2004. Environ. Sci. Technol. 38:2011 - 2020.
A Food Web Bioaccumulation Model for Organic Chemicals in Aquatic Ecosystems. 2004. Environ. Toxicol. Chem. 23:2343–2355.
An Arctic Terrestrial Food-Chain Bioaccumulation Model for Persistent Organic Pollutants. 2003 Environ. Sci. Technol. 37:2966-2974.
Quantitative Structure Activity Relationships for Predicting the Bioaccumulation of POPs in Terrestrial Food-Webs. 2003. QSAR Comb. Sci. 22:346-351.
Balancing Risks in the Management of Contaminated Aboriginal Fisheries. 2002. Int. J. Environ. Health. Res. 12:331-342.
Bioaccumulation of Persistent Organic Pollutants in Lichen-Caribou-Wolf Food-Chains of Canada's Central and Western Arctic. 2001. Environ. Sci. Technol. 35:325-334.
Dr. Gobas teaches Applied Environmental Toxicology and Environmental Management of Contaminants (REM 610), Environmental Risk Assessment (REM 445), Simulation Modelling in Natural Resource Management (REM 612), and Principles of Research Methods (REM 801).