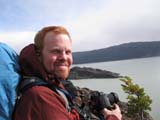 Andrew Cooper
Associate Professor
Fisheries Science and Management
B.A. (Economics, Mathematical Methods in the Social Sciences, Northwestern University)
M.F.S. (Wildlife Ecology, Yale University)
Ph.D. (Quantitative Ecology and Resource Management, University of Washington)
Andy Cooper is a quantitative ecologist specializing in the application of statistical and mathematical tools to questions rooted in marine ecology and resource management. His research focuses on such topics as population dynamics and stock assessment, decision-making under uncertainty, historical ecology, biodiversity, animal movement, and resource selection. Dr. Cooper is currently working on projects examining: (1) the temporal and spatial patterns of multispecies fishery landings in the Gulf of Maine in the early 1900s, (2) an epidemiological approach to the analysis of indicators and reference points of ecosystem and population health, (3) hierarchical models to aid in the analysis of monitoring data, and (4) the impact of uncertainty in stock structure on the management of herring in the western Atlantic.
Dr. Cooper has worked extensively with federal and regional fisheries management agencies as well as marine conservation groups in the USA, and is currently working with REM students and faculty, DFO, and others to tackle questions focusing on the North Pacific marine ecosystem.
Some of Andy's publications include:
Bednarek, A., A.B. Cooper, K.A. Cresswell, M. Mangel, W.H. Satterthwaite, C. Simpfendorfer, and J.R. Wiedenmann. 2011. The certainty of uncertainty in marine conservation and what to do about it. Bulletin of Marine Science 87(2):177-195.
Griffin, B.J., K.E. Kohfeld, A.B. Cooper, and G. Boenisch. 2010. The importance of location for describing typical and extreme wind speed behavior. Geophysical Research Letters 37, L22804, doi:10.1029/2010GL045052.
Semeniuk, C.A.D., W. Haider, A. Cooper, and K.D. Rothley. 2010. A linked model of animal ecology and human behavior for the management of wildlife tourism. Ecological Modelling 221:2699-2713.
Tutsch, M., W. Haider, B. Beardmore, K. Lertzman, A.B. Cooper, and R. Walker. 2010. Estimating the consequences of wildfire for wildfire risk assessment. Canadian Journal of Forest Research 40(11):2104-2114.
Veysey, J.S., K.J. Babbitt, A. Cooper. 2009. An experimental assessment of buffer width: Implications for salamander migratory behavior. Biological Conservation 142:2227-2239.
Byers, J.E., A.M.H. Blakeslee, E. Linder, A.B. Cooper, and T.J. Maguire. 2008. Controls of spatial variation in the abundance of marine trematode parasites. Ecology 89(2): 439-451.
McClenachan, L. and A.B. Cooper. 2008. Extinction rate, historical population structure and ecological role of the Caribbean monk seal. Proceedings of the Royal Society B 275:1351-1358.
Rittenhouse, C.D., J.J. Millspaugh, A.B. Cooper, M.W. Hubbard, S.L. Sheriff, and R.A. Gitzen. 2008. Modeling resource selection using polytomous logistic regression and kernel density estimates. Journal of Environmental and Ecological Statistics 15:39-47.
Cooper, A.B. and T.J. Miller. 2007. Bayesian statistics and the estimation of nest survival rates. Studies in Avian Biology 34:136-144.
Cooper, A.B., N. Pettorelli, and S.M. Durant. 2007 Large carnivore menus: factors affecting hunting decisions by cheetahs in the Serengeti. Animal Behavior 73:651-659
Golet, W.J., A.B. Cooper, R. Campbell, and M. Lutcavage. 2007. Dramatic decline in condition of Atlantic bluefin tuna in the Gulf of Maine. Fishery Bulletin 105(3):390-395.
Poulsen, R.T., Cooper, A.B., Holm, A.B. and MacKenzie, B.R. 2007. An abundance estimate of ling (Molva molva) and cod (Gadus morhua) in the Skagerrak and the northeastern North Sea, 1872. Fisheries Research, 87(2-3):196-207.
Cooper, A.B. 2006. A Guide to Fisheries Stock Assessment: From data to recommendations. New Hampshire Sea Grant, Durham, NH. 44 pgs.
Sharma, R., A.B. Cooper, and R. Hilborn. 2005 A quantitative framework for the analysis of habitat and hatchery practices on Pacific salmon. Ecological Modelling 183:231-250.
Rosenberg, A.A., W.J. Bolster, K.E. Alexander, W.B. Leavenworth, A.B. Cooper, and M.G. McKenzie. 2005. The history of ocean resources: Modeling cod biomass using historical records. Frontiers in Ecology and the Environment 3(2):78-84.
Cooper, A.B., A.A. Rosenberg, G. Stefansson, and M. Mangel. 2004. Examining the importance of consistency in multi-vessel trawl survey design based on the U.S. west coast groundfish bottom trawl survey. Fisheries Research 70:239-250.
Cooper, A.B., R. Hilborn, and J.W. Unsworth. 2003. An approach for population assessment in the absence of abundance indices. Ecological Applications 13(3): 814-818.
Dr. Cooper teaches Methods in Fisheries Assessment (REM 613), and Evaluation of Management Strategies for Living Resources (REM 609).