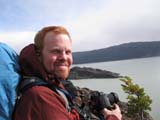 Andrew Cooper
Associate Professor
Quantitative Fisheries Research Group
B.A. (Economics, Mathematical Methods in the Social Sciences, Northwestern University)
M.F.S. (Wildlife Ecology, Yale University)
Ph.D. (Quantitative Ecology and Resource Management, University of Washington)
Andy Cooper is a quantitative ecologist specializing in the application of statistical and mathematical tools to questions rooted in ecology and resource management. His research focuses on such topics as population dynamics and stock assessment, decision-making under uncertainty, historical ecology, biodiversity, animal movement, and resource selection. Dr. Cooper is currently working on: (1) adapting tools from epidemiology and medical diagnostic screening for use in designing and evaluating ecological indicators, (2) applying data-poor methods to fisheries assessment and management, and (3) developing capacity-building materials to improve fisheries management in the Indian Ocean. Andy's students have been or are involved in a wide range of topics including caribou management, salmon ecology, skate abundance estimation, whale spatial distribution and energetics, lake nutrient cycling, and even grizzly bear harvests. In addition, Andy collaborates and publishes with students and faculty on topics such as wind dynamics, ocean acidification, wildfire risk assessment, clouded leopard abundance estimation, sea turtle diving behavior, human/bear encounters, biodiversity and ecological portfolio management, fish ecology, and historical ecology.
Dr. Cooper has worked extensively with federal and regional resource management agencies as well as conservation groups throughout North America. He spent over 10 years on the science and statistical committee that advises U.S. South Atlantic Fishery Management Council and now serves on the same committee for the U.S. Pacific Fishery Management Council.
Some of Andy's publications include:
Connors, B. and A. Cooper. In press. Shades of grey: Determining decision thresholds and evaluating indicators when conservation status is not black and white. In press at Conservation Biology.
Green, S.J., N.K. Dulvy, A.L.M. Brooks, J.L. Akins, A.B. Cooper, S. Miller, and I.M Côté. In press. Linking removal targets to the ecological effects of invaders: a predictive model and field test. In press at Ecological Applications.
Connors, B.M., A.B. Cooper, R.M. Peterman, and N.K. Dulvy. 2014. The false classification of extinction risk in noisy environments. Proceedings of the Royal Society B: Biological Sciences doi: 10.1098/rspb.2013.2935
Anderson, S.C., A.B. Cooper, and N.K. Dulvy. 2013. Ecological prophets: Quantifying metapopulation portfolio effects. Methods in Ecology and Evolution 4(10): 971-981.
Araujo, H.A., A. Page, A.B. Cooper, J. Venditti, E. MacIsaac, M. Hassan, and D. Knowler. 2013. Modeling Changes in Suspended Sediment from Forest Road Management in a Coastal Watershed of British Columbia. Hydrological Processes. doi: 10.1002/hyp.9989.
Artelle, K, S. Anderson, A. Cooper, P. Paquet, J. Reynolds, and C. Darimont. 2013. Confronting uncertainty in wildlife management: performance of grizzly bear management. PLoS ONE 8(11): e78041. doi:10.1371/journal.pone.0078041
Golet, W.J., B. Galuardi, A.B. Cooper, and M. Lutcavage. 2013. Changes in the Distribution of Atlantic Bluefin Tuna (Thunnus thynnus) in the Gulf of Maine 1979-2005. PLoS ONE 8(9): e75480. doi:10.1371/journal.pone.0075480
Frid, A., B. Connors, A.B. Cooper, and J. Marliave. 2013 Size-structured abundance relationships between upper- and mid-trophic level predators in temperate rocky reefs. Ethology, Ecology, and Evolution 25(3):1-16.
Pardo, S., A. Cooper, and N. Dulvy. 2013. Avoiding fishy growth curves. Methods in Ecology and Evolution. doi: 10.1111/2041-210x.12020
Thomson, J.A., A.B. Cooper, D.A. Burkholder, M.R. Heithaus, and L.M. Dill. 2013. Correcting for heterogeneous availability bias in surveys of long-diving marine turtles. Biological Conservation 165:154-161.
Araujo, H.A., A.B. Cooper, M. Hassan, and J. Venditti. 2012. Estimating suspended sediment concentrations in areas with limited hydrological data using a mixed-effects model. Hydrological Processes. doi: 10.1002/hyp.8462
Connors, B.M., D.C. Braun, R.M. Peterman, A.B. Cooper, J.D. Reynolds, L.M. Dill, G.T. Ruggerone, and M. Krkosek. 2012. Migration links ocean-scale competition and local climate with exposure to farmed salmon to shape wild salmon dynamics. Conservation Letters. doi: 10.1111/j.1755-263X.2012.00244.x
Contosta, A.R., S.D. Frey, S.V. Olinger, and A.B. Cooper. 2012. Soil respiration does not acclimatize to warmer temperatures when modeled over seasonal timescales. Biogeochemistry. doi: 10.1007/s10533-012-9748-6
McClenachan, L., A. Cooper, K. Carpenter, N. Dulvy. 2012. Extinction risk and bottlenecks in the conservation of charismatic marine species. Conservation Letters 5(1):73-80.
Porszt, E.J., R.M. Peterman, N.K. Dulvy, A.B. Cooper, and J.R. Irvine. 2012 Reliability of threat criteria for diagnosing population declines. Conservation Biology. DOI: 10.1111/j.1523-1739.2012.01882.x
Thomson, J.A., A.B. Cooper, D.A. Burkholder, M.R. Heithaus, and L.M. Dill. 2012. Heterogeneous patterns of availability for detection during visual surveys: spaciotemporal variation in sea turtle dive-surfacing behavior on a feeding ground. Methods in Ecology and Evolution 3:378-387.
van Poorten, B.T., S.P. Cox, and A.B. Cooper. 2012. Efficacy of harvest and minimum size limit regulations for controlling short-term harvest in recreational fisheries. Fisheries Management and Ecology. doi: 10.1111/j.1365-2400.2012.00872.x
Bednarek, A., A.B. Cooper, K.A. Cresswell, M. Mangel, W.H. Satterthwaite, C. Simpfendorfer, and J.R. Wiedenmann. 2011. The certainty of uncertainty in marine conservation and what to do about it. Bulletin of Marine Science 87(2):177-195.
Griffin, B.J., K.E. Kohfeld, A.B. Cooper, and G. Boenisch. 2010. The importance of location for describing typical and extreme wind speed behavior. Geophysical Research Letters 37, L22804, doi:10.1029/2010GL045052.
Semeniuk, C.A.D., W. Haider, A. Cooper, and K.D. Rothley. 2010. A linked model of animal ecology and human behavior for the management of wildlife tourism. Ecological Modelling 221:2699-2713.
Tutsch, M., W. Haider, B. Beardmore, K. Lertzman, A.B. Cooper, and R. Walker. 2010. Estimating the consequences of wildfire for wildfire risk assessment. Canadian Journal of Forest Research 40(11):2104-2114.
Veysey, J.S., K.J. Babbitt, A. Cooper. 2009. An experimental assessment of buffer width: Implications for salamander migratory behavior. Biological Conservation 142:2227-2239.
Byers, J.E., A.M.H. Blakeslee, E. Linder, A.B. Cooper, and T.J. Maguire. 2008. Controls of spatial variation in the abundance of marine trematode parasites. Ecology 89(2): 439-451.
McClenachan, L. and A.B. Cooper. 2008. Extinction rate, historical population structure and ecological role of the Caribbean monk seal. Proceedings of the Royal Society B 275:1351-1358.
Rittenhouse, C.D., J.J. Millspaugh, A.B. Cooper, M.W. Hubbard, S.L. Sheriff, and R.A. Gitzen. 2008. Modeling resource selection using polytomous logistic regression and kernel density estimates. Journal of Environmental and Ecological Statistics 15:39-47.
Cooper, A.B. and T.J. Miller. 2007. Bayesian statistics and the estimation of nest survival rates. Studies in Avian Biology 34:136-144.
Cooper, A.B., N. Pettorelli, and S.M. Durant. 2007 Large carnivore menus: factors affecting hunting decisions by cheetahs in the Serengeti. Animal Behavior 73:651-659
Golet, W.J., A.B. Cooper, R. Campbell, and M. Lutcavage. 2007. Dramatic decline in condition of Atlantic bluefin tuna in the Gulf of Maine. Fishery Bulletin 105(3):390-395.
Poulsen, R.T., Cooper, A.B., Holm, A.B. and MacKenzie, B.R. 2007. An abundance estimate of ling (Molva molva) and cod (Gadus morhua) in the Skagerrak and the northeastern North Sea, 1872. Fisheries Research, 87(2-3):196-207.
Cooper, A.B. 2006. A Guide to Fisheries Stock Assessment: From data to recommendations. New Hampshire Sea Grant, Durham, NH. 44 pgs.
Sharma, R., A.B. Cooper, and R. Hilborn. 2005 A quantitative framework for the analysis of habitat and hatchery practices on Pacific salmon. Ecological Modelling 183:231-250.
Rosenberg, A.A., W.J. Bolster, K.E. Alexander, W.B. Leavenworth, A.B. Cooper, and M.G. McKenzie. 2005. The history of ocean resources: Modeling cod biomass using historical records. Frontiers in Ecology and the Environment 3(2):78-84.
Cooper, A.B., A.A. Rosenberg, G. Stefansson, and M. Mangel. 2004. Examining the importance of consistency in multi-vessel trawl survey design based on the U.S. west coast groundfish bottom trawl survey. Fisheries Research 70:239-250.
Cooper, A.B., R. Hilborn, and J.W. Unsworth. 2003. An approach for population assessment in the absence of abundance indices. Ecological Applications 13(3): 814-818.
Dr. Cooper teaches Methods in Fisheries Assessment (REM 613), Principles of Research Methods (REM 801), a Special Topics Courses in Applied Quantitative Ecology (REM 661), and a Special Topics Course in Advanced Topics in Applied Quantitative Ecology (REM 667).